To get to the forefront of providing electrician services locally, you must ensure that your website is optimized for search engines. By doing so, your business will show up at the top of the page and customers giving you the best chance of them visiting your site, thus turning into paying customers. Electrician SEO services are important in order to achieve the best in organic website traffic from Google and other search providers.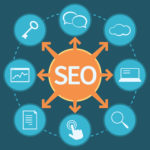 No matter what else you do to promote your business, it is vital that you run an SEO campaign that ensures you have the right keywords and they are placed correctly and effectively.  A professional marketing firm provides the required expertise for these programs.
Competitive Home Services
Although the competition can be rough in the home services market, you can stay ahead of the crowd by utilizing smart website optimization (see section below). Four areas stand out, and can make all the difference in getting you to the top of the search engines. Being one of the top five in the search engine results will bring you over 65% of all the clicks. Qualified leads like this will most certainly enhance your business. Even if your competition is currently using SEO for their websites, you can still come out on top with the right marketing professional designing your SEO campaign. 
Customers Will Turn to the Internet to Find You
It is common knowledge that the public heads to the internet to find services that they need, whether it is electrician help, plumbers, or handymen. Those who don't have proper SEO work on their internet presence miss out on a lot of business. Attracting more clients or customers is what it is all about so why not increase your online presence and build your business? It just makes sense. The electrician SEO work done on your website will ensure you are visible when people search online. Of the 97% of the people who go online to locate services local to them, 55% click on one of the first three search results at the top. Only online optimization can get you there.
Website Optimization
Website optimization is basically search engine optimization or SEO for short. It entails the plans and strategies, the process and tactics that attract traffic to a website and get top ranking positions on Google, Yahoo, Bing, and others. 
The key points of website optimization are as follows:
Researching keywords is vital in order to determine which keywords and phrases the public uses when searching for your services. There are a number of tools that professionals use to find these keywords and phrases. 
Now those keywords are used on each individual page so when the search engine "sees" those pages, they know when to show them in specific search results. The keywords go into the Meta description, title, headers, and body text. At the same time, it needs to be monitored that keywords are not used too many times (which is called keyword stuffing). The search engines are programmed to know when that happens and could potentially penalize you in the rankings. All keywords must occur naturally on the page.
There is something called a backlink profile which means that there are a quantity of quality links that go from other websites to yours. They just prove that there is a vote of confidence from another site that links to you. Therefore the more links you have pointing to your site, the better.  The links must come from a credible website. You'll find these links from online publishers, news sites, and bloggers, and more. 
Content is a very important part of SEO, and the more unique content on your website, the better. Usually electrician sites have no content except some basic information and contact information. Pages with good content can boost your position in the search engine results. Adding content that the public may look for such as "how to install a generator" or "red flags on your electrical system" will attract people to your site and can help them remember you when they need help from an electrician. When your content is interesting and informative, you will end up building a client base. 
Conclusion
Electrician SEO needs to be part of a campaign to get your business to the top of Google. Once there, the goal is to see an increase in sales and will enable you to grow and prosper like never before.